Coach Camp – Houston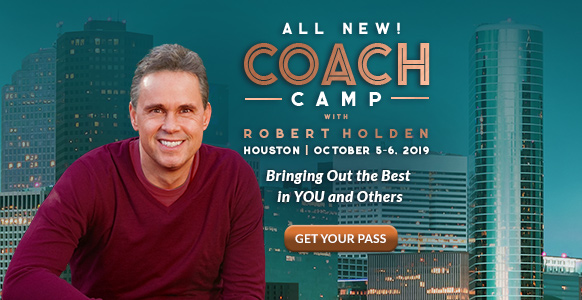 Oct 5, 2019 - Oct 6, 2019 Houston, TX
Over two days, I present eight ALL NEW 90-minute coaching modules on Coach Camp that feature a creative mix of coaching exercises, conversations, meditations and live coaching on stage.The Key themes for Houston are: SOUL-CENTERED COACHING: The highest purpose of coaching is to align yourself with your soul guidance so that you can help your clients […]
Register Now
Over two days, I present eight ALL NEW 90-minute coaching modules on Coach Camp that feature a creative mix of coaching exercises, conversations, meditations and live coaching on stage.The Key themes for Houston are:
SOUL-CENTERED COACHING: The highest purpose of coaching is to align yourself with your soul guidance so that you can help your clients do the same. Learn how to recognize soul guidance, listen to your "inner ding" as Louise Hay says, and live your truth.
MIRACLE OF SELF-ACCEPTANCE: Tell me one good thing that could happen if you were less self-critical and less judgemental? Together we will do mirror work. I'll also talk about my work with Dove & the Real Beauty Campaign.
MORE OF THE REAL YOU: The next level of success is a dare to be more of the real you! I'll share inspiration from my Success Intelligence Mastermind, a 6-month coaching journey for experiencing real breakthroughs for success.
FOLLOWING YOUR BLISS: Inspiration from one of my spiritual heroes, Joseph Campbell, creator of the Hero's Journey. I'll give you a sneak preview of my Hero's Journey Mastermind, which opens in Spring 2020.
YOUR HAPPINESS SET-POINT: I'll show you how to shift your happiness set-point so that you allow yourself to experience more inspiration, grace and abundance.
LOVE-CENTRED COACHING: I'll share some gems from my 6-month Love-Centered Coaching Mastermind.
SPIRITUAL GROWTH & ENNEAGRAM: A practical session on how to use the Enneagram to undo the inner-blocks to your spiritual growth.
SAY YES TO MIRACLES: A miracle is a shift you experience each time you choose love instead of fear. I'll share a key teaching from A Course in Miracles called the holy instant – to help you experience happiness, success, and love in your life NOW!
Coach Camp is ideal for YOU if you wish to take a deep dive in your spiritual growth and/or expand your business as a professional coach. I've coached CEOs, entrepreneurs, authors, artists, and coaches to raise their game for 25 years now. I love sharing my coaching toolbox to help people live their purpose, heal their relationships, grow their business, and serve the world.
ROBERT'S BIO
Robert Holden's innovative work on psychology and spirituality has been featured on The Oprah Winfrey Show, Good Morning America, a PBS special Shift Happens! and in two major BBC-TV documentaries on happiness. He is a New York Times best-selling author of 10 books including: Happiness NOW!, Shift Happens!, Authentic Success, Be Happy, Loveability and Life Loves You (co-written with Louise Hay). Robert's latest project is editor of Trust Life: Love Yourself Every Day with Wisdom from Louise Hay (published Oct 2018).
Robert has given over 50 keynote talks for I CAN DO IT! events worldwide. He is a coach and mentor to entrepreneurs and companies like Dove & the Real Beautiful Campaign, Virgin, The Body Shop and Google. Robert is a trustee of the Miracle Network UK – supporting A Course in Miracles. He is on the Guest Faculty of the University of Santa Monica. He is an official contributor to Oprah.com.
Robert's weekly radio show, Shift Happens!, is one of Hay House Radio's most popular shows – now in its tenth year! Listen in each Thursday at 6pm-7pm! Robert posts daily on his FB page: www.facebook.com/drrobertholden
www.robertholden.com
TESTIMONIALS
"Robert Holden is my friend, teacher, and co-author of our book Life Loves You. I am so happy to know Robert and his family. I recommend his work wholeheartedly." Louise Hay, author of You Can Heal Your Life"A HUGE thank you, Robert! Your coaching, keynotes and workshops have inspired everyone at Dove and The Real Beauty campaign."Silvia Lagnado, President, Dove & Real Beauty Campaign"The beliefs I live by today were inspired by my coaching sessions with Robert. The results were extraordinary and my appreciation for his generosity and inspiration immense." Liz Trubridge, Executive Producer, Downton Abbey 
---
Getting There
George R. Brown Convention Center
1001 Avenida de las Americas
Houston, TX
United States
1-800-427-4697
Register Now
---
Comments