Evening Talk: Everyday Miracles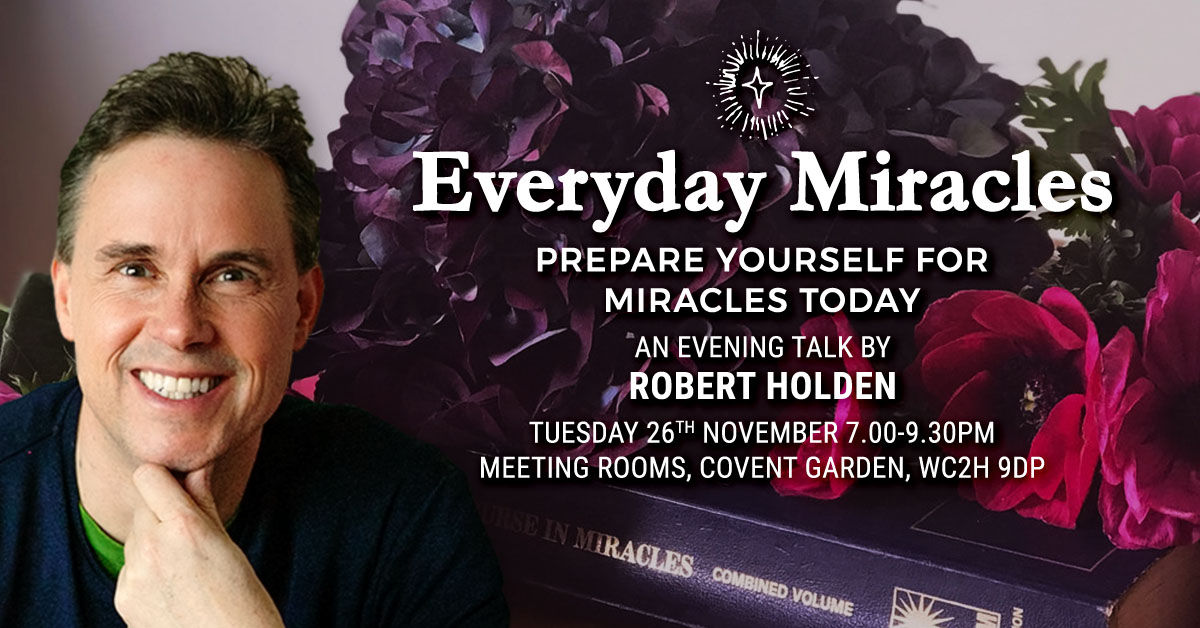 Nov 26, 2019 London, UK
UPDATE: TICKETS NOW SOLD OUT! Everyday Miracles: Prepare Yourself for Miracles Today Tuesday 26th November 2019, 7 – 9.30pm (doors open 6.45pm) Venue: Meeting Rooms, 14 Neal's Yard, Covent Gdn., London WC2H 9DP Join me for an evening of meditations, prayers and exercises from ACIM to help you experience miracles in your work and relationships. […]
Register Now
UPDATE: TICKETS NOW SOLD OUT!
Everyday Miracles: Prepare Yourself for Miracles Today
Tuesday 26th November 2019, 7 – 9.30pm (doors open 6.45pm)
Venue: Meeting Rooms, 14 Neal's Yard, Covent Gdn., London WC2H 9DP
Join me for an evening of meditations, prayers and exercises from ACIM to help you experience miracles in your work and relationships. I will explore: 1) miracle-readiness: how to be ready for miracles; 2) spontaneous availability: being open; 3) practising the Holy Instant: 4) An end to loneliness: cease doing life by yourself; 5) salvation's prayer.
My wife Hollie and I host together Everyday Miracles – an online support group for students of A Course in Miracles www.everydaymiracles.love
Together, we have created a new Everyday Miracles card deck, featuring 50 Lessons from ACIM (published by Hay House).
Event Ticket Price:
In advance: £10, or £16 with dinner
£4 extra after the Friday before the event and on the door.
7 to 9.30pm (doors open 6.45pm).
Location: The Meeting Rooms, 14 Neals Yard, Covent Garden, London WC2H 9DP
(Not suitable for anyone with compromised mobility.)
---
---
Comments