Talk: Finding Love Everywhere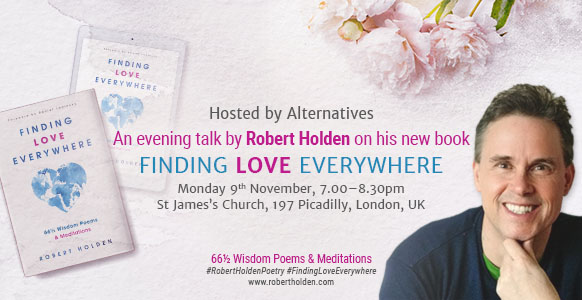 Nov 9, 2020 London
Show up for your life and let love find you! On this evening we celebrate the launch of Robert's new book Finding Love Everywhere, which features 66 ½ wisdom poems to help you be the the love you are looking for! Robert will take you on a journey in which he explores love as a […]
Register Now
Show up for your life and let love find you! On this evening we celebrate the launch of Robert's new book Finding Love Everywhere, which features 66 ½ wisdom poems to help you be the the love you are looking for!
Robert will take you on a journey in which he explores love as a spiritual path. He will present a creative mix of storytelling, poetry, meditations and readings – with musical performed live by world-renowned composer, Tim Wheater.
The five parts are 1) Letting Love Find You; 2) Loving Others as Yourself; 3) Loving When It's Difficult; 4) Letting Life Love You; and 5) Being the Presence of Love.
Timetable:
18:30: Doors open
19:00: Talk commences
20:30: Book signing
Venue:
St James's Church
197 Piccadilly
London W1J 9LL
United Kingdom
Tickets: Prices start from £15 plus booking fee
Any queries about this event, please contact the organiser, Alternatives
info@alternatives.org.uk
---
Getting There
St James's Church,
197 Piccadilly,
London
W1J 9LL
Register Now
---
Comments