Everyday Abundance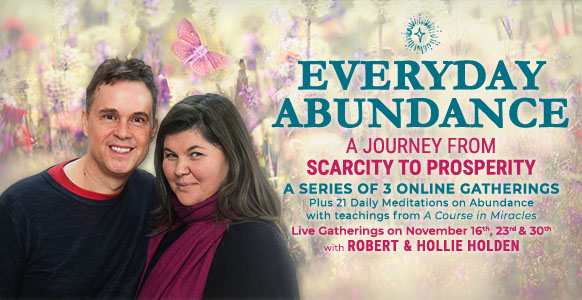 Nov 15, 2021 - Dec 5, 2021 Online
EVERYDAY ABUNDANCE A Journey from Scarcity to Prosperity A Series of 3 LIVE Online Gatherings Plus 21 Daily Meditations on Abundance with teachings from A Course in Miracles November 15th thru December 5th 2021 (Live Gatherings on Nov 16th, 23rd & 30th)  with ROBERT & HOLLIE HOLDEN Join Robert and Hollie for a brand-new series EVERYDAY […]
Register Now
EVERYDAY ABUNDANCE
A Journey from Scarcity to Prosperity
A Series of 3 LIVE Online Gatherings
Plus 21 Daily Meditations on Abundance
with teachings from A Course in Miracles
November 15th thru December 5th 2021
(Live Gatherings on Nov 16th, 23rd & 30th) 
with ROBERT & HOLLIE HOLDEN
Join Robert and Hollie for a brand-new series EVERYDAY ABUNDANCE – featuring three 90-minute LIVE online seminars, plus 21 daily miracle meditations delivered to your inbox, and access to a private Facebook group to share inspiration and connection.
On EVERYDAY ABUNDANCE, Robert and Hollie will take you on a journey from scarcity to abundance – working with the key teachings, practices, and meditations of A Course in Miracles on prosperity. Together, we will work on an inner shift from a mindset of fear to love, from separation to inspiration, from feeling lost to being guided, from struggle to ease, from pain to peace, from feeling blocked to experiencing a greater sense of purpose and creativity.
EVERYDAY ABUNDANCE features three 90-minute LIVE webinars (available to download and keep) hosted by Robert and Hollie. You will receive 21 daily miracle meditations delivered to your inbox which feature some of Robert and Hollie's favourite lessons and readings on abundance from A Course in Miracles recorded in the original garden at Findhorn, Scotland. There is also a dedicated private Facebook Group for you to share the journey with fellow participants.
Registrants will receive access to ALL daily meditations and recordings to download and keep.
---
---
Comments