Holy Shift! 3-Day Miracle Retreat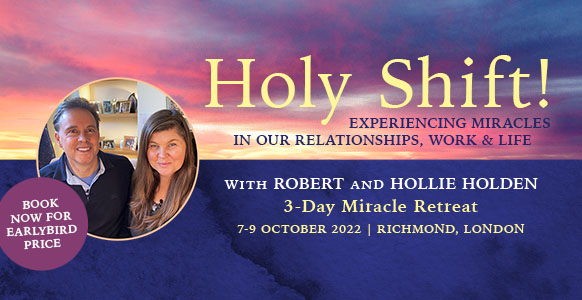 Oct 7, 2022 - Oct 9, 2022 London
A 3-Day Miracles Retreat HOLY SHIFT! Experiencing Miracles in your Relationships, Work and Life With Robert and Hollie Holden "There is a place in you where nothing Is impossible. There is a place in you where the strength of God abides" A Course in Miracles Join Hollie and Robert Holden for a 3-day retreat to support […]
Register Now
A 3-Day Miracles Retreat
HOLY SHIFT!
Experiencing Miracles in your Relationships, Work and Life
With Robert and Hollie Holden
"There is a place in you where nothing
Is impossible. There is a place in you
where the strength of God abides"
A Course in Miracles
Join Hollie and Robert Holden for a 3-day retreat to support you in your study and practice of A Course in Miracles.
This year's focus will be on spiritual growth and how to make positive changes in your life during uncertain and challenging times. And on how to be a miracle worker – an agent for change – to help create a better future for us all.
On Holy Shift!, Robert & Hollie will share favourite lessons from the ACIM Workbook, practical teachings from the main Text, and inspiration from The Song of Prayer and other ACIM literature. The emphasis will be on how to apply the major miracle principles to your relationships, work, and daily life.
This year we are returning to ç to hold our miracles retreat. It is a beautiful setting, near Richmond, and is in easy reach of central London. Over three days, you will experience nine practical, inter-active 90-minute sessions. Key themes include:
The Inner Shift: making the shift from ego-bound psychology to a more expansive soul-consciousness.
Miracle-Readiness: making yourself receptive, ready, and open to miracles, inspiration, and creative breakthroughs.
Manifesting Miracles: by removing the inner blocks to love, joy, abundance, and peace.
Overcoming Challenges: how to work with life challenges using key practices from the Course.
Forgiveness NOW!: using the 3 steps of Forgiveness to let go of grievances to access greater love, creativity, and success.
Spiritual Guidance: practising prayers in the Course to help you experience greater inspiration, direction, and guidance.
The Holy Instant: "Be confident that on this day there is a new beginning," teaches the Course. Every now is a new beginning.
Changing The Future: learn how to change the future by showing up in a new way in the present.
Your holiness reverses all the laws of the world.
It is beyond every restriction of time, space,
distance and limits of any kind.
A Course in Miracles
Holy Shift! is open to students and teachers of A Course in Miracles. Everyone is welcome.
Dates: 7-9th October 2022
Timing:
Day 1: 10am-5pm
Day 2: 9.30am- 4pm
Day 3: 9.30am-4pm
Venue: 
Royal Mid-Surrey Golf Club
Old Deer Park
Twickenham Road
Richmond
London
TW9 2SB
LIMITED TO 100 Participants, first come, first served
PLEASE NOTE: Meals and accommodation are not included in this retreat.
Please click this Retreat Information document for further info: Retreat Information for Participants
Fee:
Everyday Miracle Members:
Early bird: £249 (inc. VAT) [~$310]
General:
Early bird: £299 (inc. VAT) [~$375] ends 23rd September, 2022
Full Price: £399 (inc. VAT) [~$500]

Bios
Robert Holden and Hollie Holden are the creators of Everyday Miracles – an online membership group for students and teachers of A Course in Miracles. They are also the authors of the Everyday Miracles card deck featuring 50 Lessons from A Course in Miracles.
Robert Holden is the author of Holy Shift! 365 Meditations from A Course in Miracles. His innovative work on psychology and spirituality has been featured on Oprah, Good Morning America, and a PBS special called Shift Happens! His books include Happiness NOW! Loveability and Life Loves You (with Louise Hay). Robert hosts a weekly show for Hay House Radio called Shift Happens! Website: www.robertholden.com
Hollie Holden is an artist, writer, and ordained Interfaith Spirit minister with One Spirit. She has written a daily commentary on the lessons from A Course in Miracles as well as recording the daily lessons (with permission from the Foundation for Inner Peace) for the Everyday Miracles community. She shares her wisdom online with her Facebook community, Notes on Living & Loving. Website: www.hollieholden.me

LOCATION
Royal Mid Surrey Golf Club, Richmond, London, TW9 2SB
---
---
Comments