I Can Do It! Birmingham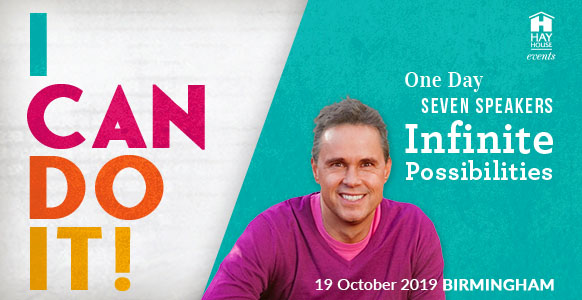 Oct 19, 2019 Birmingham, UK
The world-famous I Can Do It!® event is coming back to Birmingham in a big way! For the first time ever we're combining eight of your favourite authors in one magical day! Featured Authors: Robert Holden, Lynne McTaggart, Kyle Gray, Mel Wells, Diana Cooper, Vex King and Denise-Duffield Thomas, with card readings from Yasmin […]
Register Now
The world-famous I Can Do It!® event is coming back to Birmingham in a big way! For the first time ever we're combining eight of your favourite authors in one magical day!
Featured Authors: Robert Holden, Lynne McTaggart, Kyle Gray, Mel Wells, Diana Cooper, Vex King and Denise-Duffield Thomas, with card readings from Yasmin Boland!
This is your opportunity to spend the whole day with these amazing motivational speakers; hear their stories, ask questions, dive deep into their teachings and come away invigorated, refreshed and renewed, ready to apply their teachings to your life.
Our inspiring presenters will take you through the movements at the very forefront of mindfulness, wellbeing and spirituality around the world today. They will lead you through guided meditations and teach you new practices and exercises – and you will walk away confident you have the information, resources and tools you need to continue your journey.
This is a chance to reconnect with your true needs and desires, all in a wonderfully positive, supportive and loving environment. And as an added extra during this incredible day, world-renowned astrologer and Moonology expert Yasmin Boland will be giving individual oracle card readings over the lunch break!
Give yourself and everyone else in your life the gift of a healthier, happier you! Say YES to being your best self and join us at I Can Do It!® 2019!
Two Ticket Prices:
Premier ticket holders will receive a goody bag worth £40 and seating closest to the stage!
List Price: £149.00
Super Early Bird Price: £89.00 (save 40%) sale ends Jul 02, 2019
https://www.hayhouse.co.uk/icdi-2019-premier
General ticket:
List Price: £129.00
Super Early Bird Price: £69.00 (save 47%) sale ends Jul 02, 2019
https://www.hayhouse.co.uk/events/icdi-2019-general
---
Getting There
The Town Hall,
Victoria Square,
Birmingham, UK,
B3 3DQ
Register Now
---
Comments