Know Thyself 4-Day Enneagram Retreat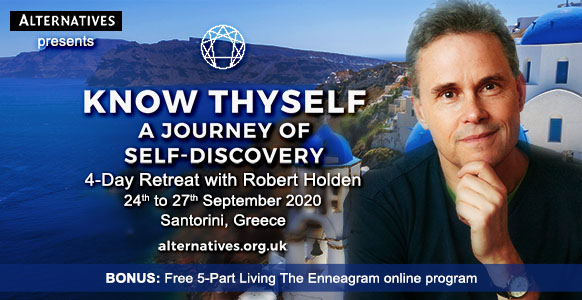 Sep 24, 2020 - Sep 27, 2020 Santorini, Greece
. Know Thyself – A Journey of Self Discovery 4-Day Enneagram Retreat September 24 to September 27, 2020 Santorini, Greece . Using the Wisdom of the Enneagram to live an Authentic Life  "If you think something is missing in your life, it is probably more of the real you!" Robert Holden Join Robert Holden on […]
Register Now
.
Know Thyself – A Journey of Self Discovery
4-Day Enneagram Retreat
September 24 to September 27, 2020
Santorini, Greece
.
Using the Wisdom of the Enneagram to live an Authentic Life 
"If you think something is missing in your life, it is probably more of the real you!"
Robert Holden
Join Robert Holden on a 4-Day retreat with Alternatives on the mystical island of Santorini – working with the timeless wisdom of the Enneagram to help you understand yourself better, say YES to your soul's calling, and live an authentic life.
The Enneagram has its origins in Greece. It's one of the oldest wisdom paths on our planet (over 2000 years old).  Here, in Greece, Robert will explore the original purpose of the Enneagram – and how to use it for opening up to higher inspiration, living a guided life, accessing innate soul gifts, releasing inner blocks, expressing your creativity, and living your soul's purpose.
Over four days, Robert will teach the basic anatomy of the nine personality types of the Enneagram – the helper, achiever, perfectionist, peacemaker – highlighting nine powerful principles from ancient greek philosophy. In beautiful Santorini, Robert will draw on teachings from the major wisdom traditions, world poetry, works of literature, sacred art and Hollywood(!) to bring the Enneagram alive and help you use it practically in your life.
This 4-day KNOW THYSELF retreat is ideal for you if you want to take a deep dive in your own
spiritual journey AND if you want to invest in your growth as a coach, therapist, healer, artist, teacher.
You will learn about:   
– Origins of The Enneagram – learning the Enneagram as a tool for higher consciousness on your spiritual path.
– Know Thyself – using the Enneagram to cultivate greater self-knowledge and authentic growth.
– Creativity & Enneagram – cultivating the innate soul gifts associated with your Ennea-type.
– Shift Happens! – making breakthroughs with the basic fear and inner blocks of each Ennea-type.
– Presence & Enneagram – working with nine soul meditations to help you show up more fully in your life.
– Growth & Enneagram – using the Enneagram as a daily spiritual practice (see 'Living the Enneagram' online event below).
.
BONUS ON-LINE COURSE:  As part of this Retreat, you get a FREE pass to LIVING THE ENNEAGRAM, a follow-up online event which features 5 online classes (90 minutes each) hosted by Robert.  The purpose of this course is to help you integrate the work of the retreat into your daily life.
.
NOTE: No previous experience of The Enneagram is necessary for this course.  We recommend, however, you take an Enneagram Test available at https://www.enneagraminstitute.com/rheti
.
Ticket Price:
Full Rate: £2,555 (after 3rd December)
Early Bird Rate: £2,175 (deadline of 3rd December) Deposit only £375 – pay in instalments!
Breakfast, lunch, dinner, accommodation, all transfers and teaching are included. Flights purchased separately. Once you booking has been confirmed we will contact you with the recommended flights.
All deposits are non-refundable. We will be arriving on the 23rd Sep for course commence 24th Sep.
Any queries about this retreat, please contact Alternatives on 0207 287 6711 or email  retreats@alternatives.org.uk
Robert Holden runs a public program of Enneagram workshops each year. He teaches Leadership & the Enneagram for clients such as Dove, Google, Virgin and Hay House.  He also coaches people privately on the Enneagram. Robert presented the annual keynote for the International Enneagram Association in 2009.
"His knowledge and experience with this model of growth is vast and it's given me a 
powerful context for my life.  When you take the time to learn about the nine points and your own personal number, you'll uncover a clear path of development that will lead you to your most authentic and fulfilling life!"
Cheryl Richardson, New York times bestselling author of The Art of Extreme Self-Care
---
Getting There
El Greco Resort Hotel
847 00 Thira
Greece
Register Now
---
Comments