Know Thyself 4-Day Enneagram Retreat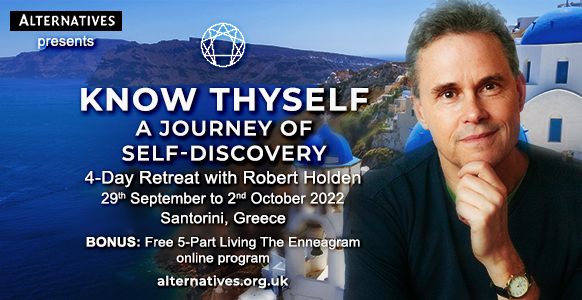 Sep 29, 2022 - Oct 2, 2022 Santorini, Greece
Know Thyself – A Journey of Self Discovery 4-Day Enneagram Retreat September 29 to October 2, 2022 Santorini, Greece . Using the Wisdom of the Enneagram to live an Authentic Life  "If you think something is missing in your life, it is probably more of the real you!" Robert Holden Using the Wisdom […]
Register Now
Know Thyself – A Journey of Self Discovery
4-Day Enneagram Retreat
September 29 to October 2, 2022
Santorini, Greece
.
Using the Wisdom of the Enneagram to live an Authentic Life 
"If you think something is missing in your life, it is probably more of the real you!"
Robert Holden
Using the Wisdom of the Enneagram to live an Authentic Life
Join Robert Holden on a 4-Day retreat with Alternatives on the mystical island of Santorini – working with the timeless wisdom of the Enneagram to help you understand yourself better, say YES to your soul's calling, and live an authentic life.
The Enneagram has its origins in Greece. It's one of the oldest wisdom paths on our planet (over 2000 years old). Here, in Greece, Robert will explore the original purpose of the Enneagram – and how to use it for opening up to higher inspiration, living a guided life, accessing innate soul gifts, releasing inner blocks, expressing your creativity, and living your soul's purpose.
Over four days, Robert will teach the basic anatomy of the nine personality types of the Enneagram – the helper, achiever, perfectionist, peacemaker – highlighting nine powerful principles from ancient Greek philosophy. He will also lead you on a creative soul meditation for each of the nine points of the Enneagram.
You will learn about:
Origins of The Enneagram – learning the Enneagram as a tool for higher consciousness on your spiritual path.
Enneagram Point 1: Theosis – use the Enneagram to experience your divinity, your inherent Goodness, and what Plato refers to as the Perfection of Creation.
Enneagram Point 2: Logos – cultivate a greater sense of relatedness, connection and love with all of creation.
Enneagram Point 3: Metanoia – work with the Greek myth of Narcissus to shift from identifying with your self-image to experiencing your soul nature more fully.
Enneagram Point 4: Hamartia – exploring Forgiveness to help us let go of our imagined sins, flaws and deficiencies.
Enneagram Point 5: Epinoia – open your mind to the possibility that you can "Google" divine inspiration and experience direct knowing by listening to your heart!
Enneagram Point 6 – Aletheia – spiritual practices for tuning in to spiritual guidance and trusting your intuition.
Enneagram Point 7 – Pleroma – stop chasing, grasping, searching for fulfilment and learn how to experience the inherent fullness that is here now.
Enneagram Point 8 – Kratos – work with the Greek myth of Hercules to surrender more fully to a higher power in your life.
Enneagram Point 9 – Anthropos – using the Enneagram to practice an incarnational spirituality that helps you show up more fully in the world and in your life.
This 4-day KNOW THYSELF retreat is ideal for you if you want to take a deep dive in your own spiritual journey AND if you want to invest in your own growth as a coach, therapist, healer, artist and teacher.
BONUS ON-LINE COURSE: As part of this Retreat, you get a FREE pass to LIVING THE ENNEAGRAM, a follow-up online event which features 3 online classes (90 minutes each) hosted by Robert. The purpose of this course is to help you integrate the work of the retreat into your daily life. You also get access to a dedicated Facebook group hosted by Robert.
NOTE: No previous experience of The Enneagram is necessary for this course. We recommend, however, you take an Enneagram Test to benefit fully. Please contact us for further details.
Booking: £2,775. Deposit only £375 – pay in instalments!
Breakfast, lunch, dinner, accommodation, all transfers, and teaching are included. Flights purchased separately. Once your booking has been confirmed we will contact you with the recommended flights.
All deposits are non-refundable. We will be arriving on the 28th September for course commence 29th September.
---
---
Comments