Living Your Purpose 8-Day Pilgrimage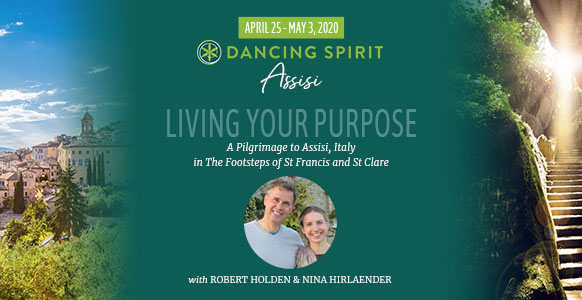 Apr 25, 2020 - May 3, 2020 Assisi, Italy
In April 2020, I am leading my third public pilgrimage to Assisi, Italy – to walk in the footsteps of St. Francis and St. Clare. St. Francis is my Patron Saint of Purpose. Each time I visit Assisi, I leave feeling re-aligned, rejuvenated and ready to say YES to my soul's calling. The beauty and […]
Register Now
In April 2020, I am leading my third public pilgrimage to Assisi, Italy – to walk in the footsteps of St. Francis and St. Clare.
St. Francis is my Patron Saint of Purpose. Each time I visit Assisi, I leave feeling re-aligned, rejuvenated and ready to say YES to my soul's calling. The beauty and inspiration of Assisi stirs my imagination, fuels my creativity, and helps me commit to my spiritual purpose.
The 2020 Living Your Purpose pilgrimage is hosted by Nina Hirlaender, the founder of Dancing Spirit Tours. Nina has conducted eight pilgrimages to Assisi.
Together, we have created an itinerary to help you experience a pilgrimage of a lifetime.
During 8 days of pilgrimage, Nina and I will share with you our favourite experiences of Assisi. Highlights include: 1) Meditating at San Damiano, where St. Francis first heard his calling; 2) visiting the cloister of St. Clare; 3) Dinner with Franciscan monks; 4) a visit to the St. Francis Hermitage of Carceri, scene of St. Francis's Sermon to the Birds; and 5) a walk with Friars in a procession of the stigmata on Mount La Verna.
The 2020 Living Your Purpose pilgrimage is limited to only 40 people. At present 15 places remain available! The first 25 places have been booked by people who have priority access with Dancing Spirit Tours and my Mastermind and pilgrimage groups.
Download the 2020 Living Your Purpose brochure here.
You can also visit the main Assisi pilgrimage webpage here.
To book your place, register here.
You are required to pay a deposit of $1000 to Dancing Spirit Tours.
The prices are:
Single room: regular price $4,950 per person.
Twin/double room: regular $3,950 per person.
Triple room: regular price: $3,550 per person.
Here is a short promo video on Pilgrimages to Assisi by Nina.
---
---
Comments