Love, Relationships & Miracles: 3-Day ACIM Retreat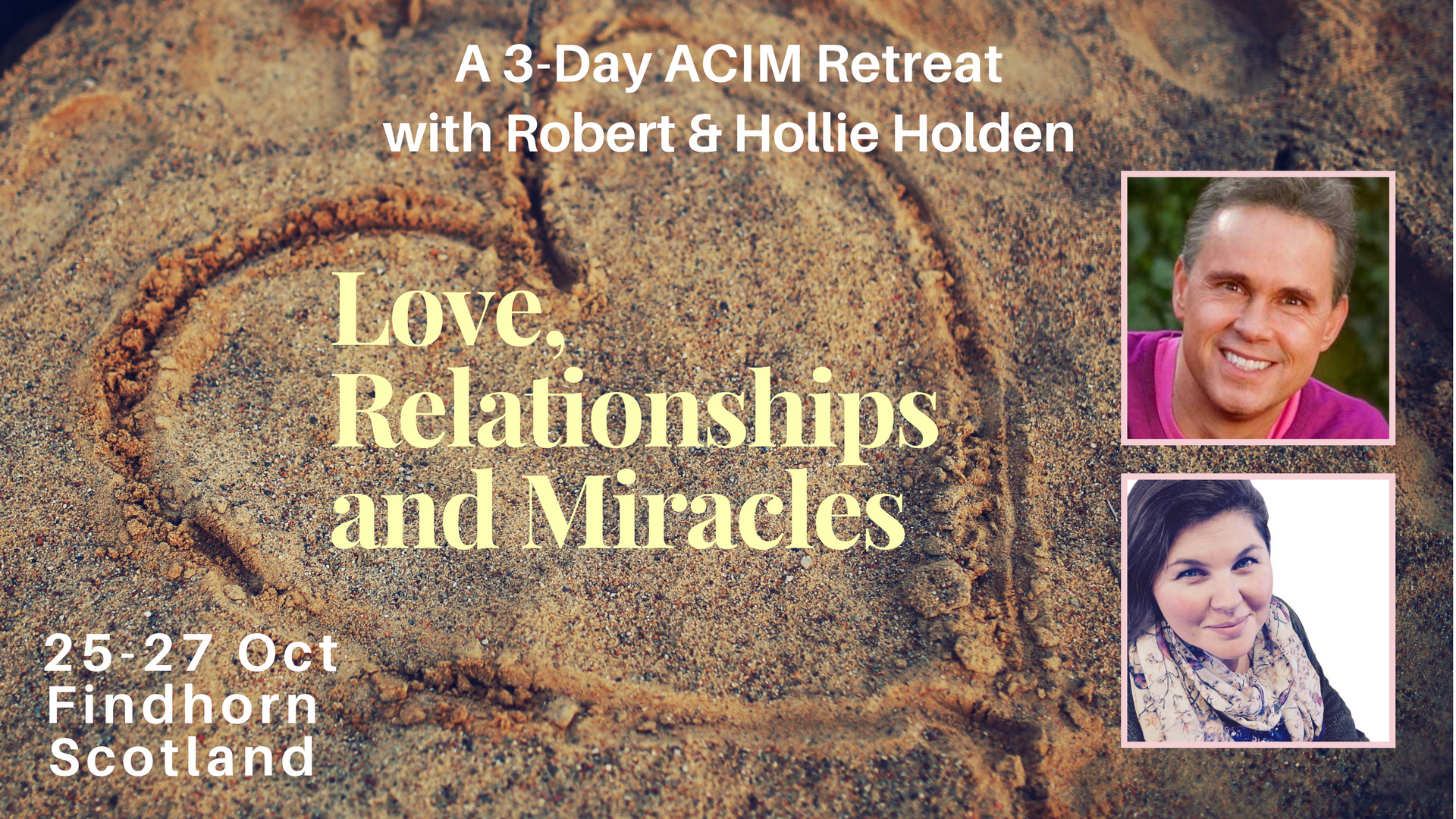 Oct 25, 2018 - Oct 28, 2018 Findhorn, Scotland
BOOK NOW and receive a FREE 8-week follow-up program Many Miracles – featuring a weekly video with Hollie and me. Join Hollie Holden and me for a 3-day retreat in beautiful Findhorn, Scotland, exploring how A Course in Miracles can help you experience greater love in all your relationships. A Course in Miracles is […]
Register Now
BOOK NOW and receive a FREE 8-week follow-up program Many Miracles – featuring a weekly video with Hollie and me. Join Hollie Holden and me for a 3-day retreat in beautiful Findhorn, Scotland, exploring how A Course in Miracles can help you experience greater love in all your relationships.
A Course in Miracles is a unique, universal self-study thought system teaching that the way to inner peace is through love and forgiveness. It teaches that the way to remembering God – finding love and peace – is undoing guilt by forgiving others. The unique curriculum it offers has resonated with millions of people around the world, being translated into over a dozen languages.
This workshop will draw from Robert's and Hollie's experience with and insights into the Course's teachings. They will illuminate ways our perceptions and personal interpretations keep us from realising the truth that we are all part of God, that love is the fundamental nature of reality and our work is to open up to that reality.
The three days we spend together are like a spiritual retreat. Taking time out of your normal routine is a wonderful way to renew, gain perspective and open to deeper insights. The workshop will be held within the warm, welcoming space of the Findhorn Foundation, an active spiritual community working with the same principles that A Course in Miracles teaches. This resonant setting enhances our focus and clarity.
Robert and Hollie will share powerful meditations, prayers and practices from A Course in Miracles to help bless every kind of relationship with a partner, parents, siblings, children, neighbours and colleagues. Key themes include:
– Miracle of Self-Love: how miracles occur naturally as you love yourself and everyone else more.
– On Special Relationships: exploring the Course's teaching on the difference between special love and holy love.
– Blocks to Love: experiencing real breakthroughs on loving and being loved.
– Lessons of Love: identifying the Holy Spirit's curriculum in every relationship.
– Gift of Forgiveness: a powerful forgiveness practice to open the heart to love.
– Teach Only Love: committing to love as your inner work and spiritual purpose.
For booking and workshop information tel Findhorn Foundation: +44 (0)1309 691653
Email: bookings@findhorn.org
---
Getting There
Findhorn Foundation
The Park
Findhorn
Forres, IV36 3TZ
Scotland, UK
Register Now
There is not points to locate on the map
---
Comments