Love & The Enneagram Online Program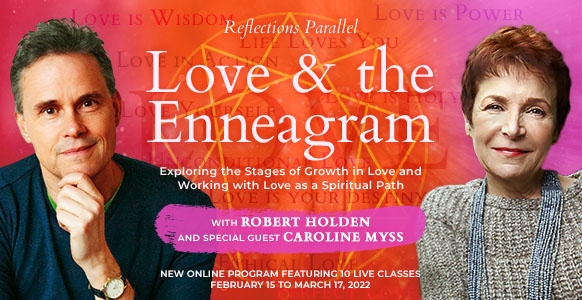 Feb 15, 2022 - Mar 17, 2022 Online
Register Now for $100 Discount! Love & The Enneagram with special guest Caroline Myss Online LIVE Program with 10 webinars Feb 15 to to March 17 I'm thrilled that I will be joined by special guest CAROLINE MYSS as we host together a 10-part online program LOVE AND THE ENNEAGRAM. Join us to learn about […]
Register Now
Register Now for $100 Discount!
Love & The Enneagram
with special guest Caroline Myss
Online LIVE Program with 10 webinars
Feb 15 to to March 17
I'm thrilled that I will be joined by special guest CAROLINE MYSS as we host together a 10-part online program LOVE AND THE ENNEAGRAM.
Join us to learn about the Wisdom of the Enneagram and experience 9 Deep Soul Meditations for personal growth and global transformation. This is a 10-part journey on how to use the Enneagram to navigate the stages of growth in love and to expand your capacity to love and be loved.
The Enneagram is a powerful self-awareness tool that dates back 2,500 years. Its origins are the wisdom schools of ancient Egypt and Greece. It's based on Plato's and Aristotle's sacred mathematics, spiritual philosophy, and natural laws. It offers timeless wisdom to help you deepen your understanding of love and spiritual practices to widen your circle of love.
Enneagram is a Greek compound word for "nine" (ennea) and "written" or "drawn" (gramma). It is a model of nine personality types that helps you to cultivate a more conscious and enlightened relationship to love. It's also a mandala of nine meditation points with spiritual practices for finding your wholeness, loving the "true Self", blessing your relationships, fuelling your activism, living your purpose, and being a truly loving presence in the world.
In Love and Enneagram, Robert explores the nine Ennea-types and their relationship to love. For each Ennea-Type, he shares a creative mix of readings from spiritual literature, much loved poetry, inspiration from the wisdom traditions, musical references, meditations, and prayers. Caroline Myss will respond to Robert's offering with spiritual direction for the stages of growth in love for each type.
No prior experience of the Enneagram is required for this program. Everyone is welcome!
Purchase your ticket NOW FOR $100 DISCOUNT off the regular price.
---
---
Comments