Many Miracles: 3 Day ACIM Gathering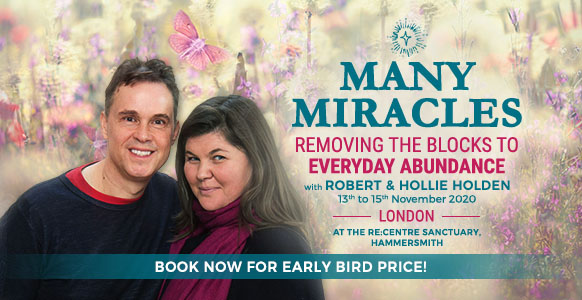 Nov 13, 2020 - Nov 15, 2020 London
MANY MIRACLES: A 3-Day Miracles Gathering on Removing The Blocks To Everyday Abundance With Robert and Hollie Holden About this Event "Each day a thousand treasures come to me with every passing moment. I am blessed with gifts throughout the day, in value far beyond all things of which I can conceive." A Course in Miracles […]
Register Now
MANY MIRACLES:
A 3-Day Miracles Gathering
on Removing The Blocks To Everyday Abundance
With Robert and Hollie Holden
About this Event
"Each day a thousand treasures come to me with every passing moment. I am blessed with gifts throughout the day, in value far beyond all things of which I can conceive." A Course in Miracles
Join Robert and Hollie for a 3-day live gathering exploring the central teachings of A Course in Miracles on abundance.
A Course in Miracles has inspired a generation of spiritual students and teachers to live a happier, more fulfilled life. It offers a practical, step-by-step guide to help you make a shift from a mindset of fear to love, from aloneness to inspiration, from feeling lost to being guided, from struggle to ease, from pain to peace, from feeling blocked to experiencing a greater sense of purpose and creativity.
On Many Miracles, Robert & Hollie will take you on a wonderful journey – with the Course as your guide – from scarcity to abundance. They will share with you some of their favourite lessons from the ACIM Workbook, teachings from the main Text, and inspiration from The Song of Prayer and other ACIM literature.
Over three days, Robert and Hollie present ten practical 90-minute sessions on how to put the teachings of A Course in Miracles into practice in your everyday life.
Key themes include:
I am Blessed: tap into the Divine Inheritance encoded in your Soul's DNA. Make a shift from "having", "getting", "wanting", and "searching", to "finding the present" and experiencing the gifts of God.
The Scarcity Principle: undo the "tiny mad idea" of separateness that is the underlying cause of lack and scarcity. "A sense of separation from God is the only lack you really need correct," teaches the Course.
I am not Alone: let the Course help you open up to a whole new level of relatedness, connection and love. Loving relationships are your natural birthright. Abundance is the experience of loving and being loved.
Laws of Deprivation: recognize how you habitually deprive yourself of more love, peace, inspiration and joy. "Only you can deprive yourself of anything. Do not oppose this realization, for it is truly the beginning of the dawn of light," teaches the Course.
A Guiltless World: let go of learned unworthiness that conditions you to believe that greater abundance must be earned, deserved and comes with a price.
Magic and Miracles: make a profound inner shift from struggling to manifest your own private, personal wealth to experiencing a more genuine universal abundance that is available to everyone.
Song of Prayer: learn a new way to pray that is based on gratitude, affirmation and an inherent fullness, rather than making endless petitions for what you perceive you lack.
Gifts of Forgiveness: "Forgiveness offers you everything that you want," teaches the Course. Learn how to exchange miracles for grievances. Forgiveness is a gift you give yourself to set yourself free.
Finding the Present: work with the spiritual practices of the Course to be more present, open and receptive to your life.
Many Miracles is open to everyone wants to learn about A Course in Miracles and also deepen their study and practice of this profound spiritual teaching.
Robert Holden and Hollie Holden are the creators of Everyday Miracles – an online membership for studying A Course in Miracles. They are the creators of the Everyday Miracles card deck featuring 50 Lessons from A Course in Miracles – published by Hay House in October 2019.
---
---
Comments