A Winter of Imagination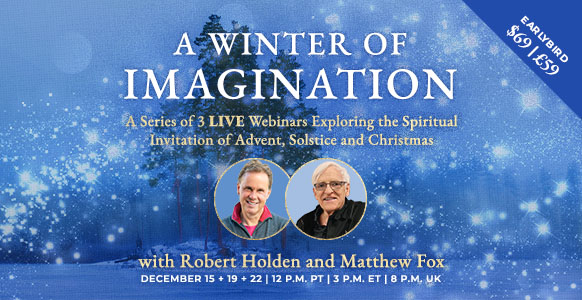 Nov 15, 2022 - Dec 22, 2022 Online
Thu 15 Dec 2022 8:00 PM – Thu 22 Dec 2022 9:00 PM GMT A WINTER OF IMAGINATION A Series of 3 LIVE Webinars exploring the Spiritual Invitation of Advent, Solstice, and Christmas. With Robert Holden & Matthew Fox "O silence, golden zero Unsetting sun Love winter when the trees say nothing." ~Thomas Merton~ Join Matthew Fox and I for A WINTER OF IMAGINATION – a mystical journey […]
Register Now
Thu 15 Dec 2022 8:00 PM – Thu 22 Dec 2022 9:00 PM GMT
A WINTER OF IMAGINATION
A Series of 3 LIVE Webinars exploring the Spiritual Invitation
of Advent, Solstice, and Christmas.
With Robert Holden & Matthew Fox
"O silence, golden zero
Unsetting sun
Love winter when the trees say nothing."
~Thomas Merton~
Join Matthew Fox and I for A WINTER OF IMAGINATION – a mystical journey that features three 75-minute webinars that reveal the spiritual invitation and deeper meaning of Advent, the Solstice, and Christmas time.
In A WINTER OF IMAGINATION Matthew and I will share our favourite teachings and spiritual practices for the Holy Season. We will offer a creative mix of inspiration gathered from world faiths, the Christian mystics, St Francis of Assisi, Meister Eckhart, William Shakespeare, Charles Dickens and more. There will also be time for Q&A.
Webinar 1: Advent for Mystics
Preparing Yourself for Miracles this Holy Season
December 15th 12pm PT | 3pm ET |8pm UK
Webinar 2: A Solstice Meditation
Honour the Darkness and Welcome the Light
December 19th12pm PT | 3pm ET |8pm UK
Webinar 3: Soul of Christmas
Birthing the Son/Daughter of God in Us
December 22nd12pm PT | 3pm ET |8pm UK

A WINTER OF IMAGINATION is an invitation to experience the holy season as a time for healing, inspiration, and new beginnings both in our hearts and upon the earth. It is a wonderful opportunity to gather and enjoy each other's company as we explore the deeper meaning and higher purpose of advent, the winter solstice and Christmas.
"I will honour Christmas in my heart,
and try to keep it all the year."
– Charles Dickens, A Christmas Carol –
REGISTER NOW!
Early bird £59 | ~$69 – Closes December 18th
Full Price: £89 | ~$99
Scholarships are available to anyone who needs one, please email us at info@robertholden.com.
Matthew Fox is a spiritual theologian, an Episcopal priest, and spiritual activist who has written 37 books including Original Blessing, Order of the Sacred Earth, One River, Many Wells, and The Reinvention of Work. He is the Founder of the University of Creation Spirituality in California. And he has written books and taught courses on many of the great mystics including Meister Eckhart, Hildegard of Bingen, Thomas Aquinas and Thomas Merton. www.matthewfox.org
---
---
Comments