Soul Purpose 3-Day Retreat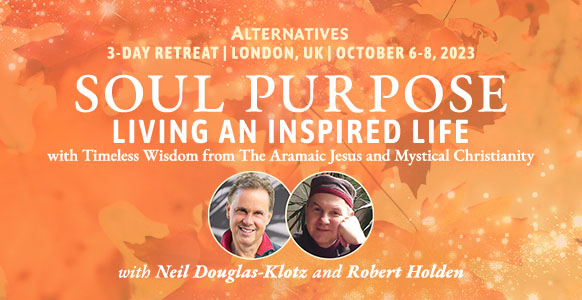 Oct 6, 2023 - Oct 8, 2023 London, UK
Soul Purpose 3-Day Retreat Fri 6 Oct 2023 2:00 PM – Sun 8 Oct 2023 4:00 PM London, UK Join Neil and Robert for a 3-day retreat on SOUL PURPOSE.  Together they will present a rich tapestry of teachings, practices, meditations, and prayers for living a purpose-centered life. They will draw on inspiration from the Aramaic Jesus, from the gnostic gospels, from Sufi mysticism, the […]
Register Now
Soul Purpose 3-Day Retreat
Fri 6 Oct 2023 2:00 PM – Sun 8 Oct 2023 4:00 PM
London, UK
Join Neil and Robert for a 3-day retreat on SOUL PURPOSE. 
Together they will present a rich tapestry of teachings, practices, meditations, and prayers for living a purpose-centered life. They will draw on inspiration from the Aramaic Jesus, from the gnostic gospels, from Sufi mysticism, the sacred Beatitudes, from A Course in Miracles, from poet Kahlil Gibran, from St. Francis of Assisi, from the Original Blessing of Matthew Fox, and much more.
Over three days, Neil and Robert will present nine 90-minute sessions. Each session will have a focus to help you to explore your life's purpose using a three-layered approach of psychology, spirituality, and mysticism.
Themes covered include:
Jesus, the way shower – exploring the teachings of the Aramaic Jesus and how they can help uncover our purpose as human beings today.
The Way of Mysticism – what it means to be a mystic, and working  with a three-fold path of mystic, prophet, and activist.
On Universal Inspiration – breathing in inspiration, receiving guidance, and aligning the individual self with the Universal Self
Stone, Water and Wine – an ancient blueprint to help you deepen your experience of living a purpose-centered life
Blessings and Beatitudes – exploring the sacred code and the depth process of the Beatitudes to help you reawaken your joy.
The Parable of the Vine – pruning, growing, and ripening into presence. A vision of inter-connection and profound support.
A New Way to Pray – working with the power of prayer, with words and without, to experience a greater sense of guidance, inspiration, and purpose.
Ordained by Love – Straightening out the self with love. Becoming a loving presence in the world.
Soul Purpose is for a maximum of 100 people. It is designed to be an intimate and spacious retreat, with plenty of time for journaling, conversation, practices, and Q&A. The Alternatives Team and members of Robert Holden's team will be on hand throughout the weekend to support you.
"Let the beauty that we love be what we do. There are hundreds of ways to kneel and kiss the ground."
Jalal al-Din Rumi translated by Coleman Barks
Dates: 6-7-8th October 2023
Timings:
Friday – 2pm to 6pm
Saturday – 10am to 5pm
Sunday – 10am to 4pm
This retreat is non-residential

Fee: £299 (inc VAT) Early Bird  (ends 5th September)
£399 – Full Price
Neil Douglas-Klotz, Ph.D. is a renowned writer, teacher, and artist in the fields of Middle Eastern spirituality and the translation and interpretation of the ancient Semitic languages of Hebrew, Aramaic and Arabic. His books on the Aramaic spirituality of Jesus include Prayers of the Cosmos, The Hidden Gospel, Original Meditation: The Aramaic Jesus and the Spirituality of Creation, Blessings of the Cosmos and Revelations of the Aramaic Jesus (2022).. He has also edited four collections of the work of Middle Eastern mystic Kahlil Gibran. And has written a mystery novel set in the first century C.E. Holy Land entitled A Murder at Armageddon. www.abwoon.org
Robert Holden's innovative work on psychology and spirituality has been featured on The Oprah Winfrey Show, Good Morning America, a PBS special Shift Happens! and in two major BBC-TV documentaries on happiness. Robert's love of mystical Christianity is expressed in his work with A Course in Miracles, pilgrimages to Assisi (home of St. Francis and St Clare), the Golden Thread mastermind (co-hosted with Hollie Holden), the Decoding the Gospel of John series with Rev Peter Dewey, and various spiritual retreats to Jerusalem, Galilee, Montserrat, Glastonbury, and Findhorn. His new book is Higher Purpose. www.robertholden.com
---
---
Comments