Spiritual Growth and the Enneagram: Spain Retreat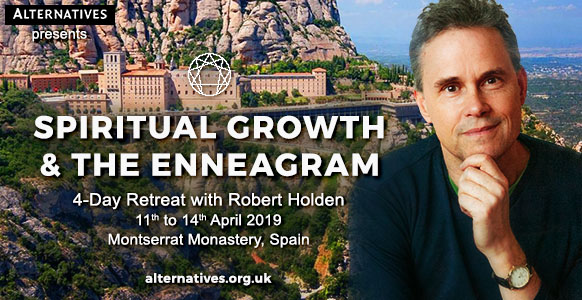 Apr 11, 2019 - Apr 14, 2019 Montserrat Monastery, Spain
"The Enneagram is the most powerful system I know for releasing inner blocks to love, happiness and success." Robert Holden Join me on a 4-Day retreat with Alternatives in the beautiful Montserrat Monastery in Catalonia Spain – diving deep into the timeless wisdom of the Enneagram to help you experience practical growth and transformation in […]
Register Now
"The Enneagram is the most powerful system I know for releasing inner blocks to love, happiness and success." Robert Holden
Join me on a 4-Day retreat with Alternatives in the beautiful Montserrat Monastery in Catalonia Spain – diving deep into the timeless wisdom of the Enneagram to help you experience practical growth and transformation in your life.
Over four days, I will guide you on the nine soul journeys of the Enneagram. I will coach you on the basic anatomy of the nine personality types of the Enneagram – the helper, achiever, perfectionist, peacemaker, etc. I will also lead you on a soul meditation for each of the nine points of the Enneagram.
In an intimate setting, I share how I use the Enneagram as a daily spiritual practice and also in my work. "I'm so grateful I know about the Enneagram. It has helped me in every area of my life – my writing, being a parent, my friendships, being a coach, everything!"
At the Montserrat Monastery – one of the most inspiring places on earth – I will draw on teachings from the wisdom traditions, mysticism, poetry, works of literature, sacred art and Hollywood (!) to bring the Enneagram alive and help you use it practically in your life.
You will learn about:
Purpose of Enneagram – how to use the enneagram to be less of a type, and more of the who you really are!
Know your Type – take a deep dive into the basic anatomy of the nine personality types.
Your Journey of Growth – how to use the enneagram to be more soul-centered and inspired in your life.
Heal the Inner Blocks – Identify and release the basic fear, the fixation and the passion of each type.
Recognize your Soul Gifts – appreciate the signature strengths and soul gifts of each type.
Nine Soul Meditations – work with holy meditations for each Type so as to be more fully present in your life.
NOTE: No previous experience of The Enneagram is necessary for this course. We recommend, however, you take an Enneagram Test to benefit fully. We recommend the test on the Enneagram Institute website: https://www.enneagraminstitute.com/
All rooms have bath or shower, satellite television, telephone and free internet access is available. All transfers (to and from Barcelona airport) and breakfast and dinner is included. We would recommend that you have lunch in one of the other restaurants near the basilica for variety and to try the local cuisine.
Once your place has been confirmed we will advise you on flight booking and insurance details. You will need to book your own flights and we can recommend the flights to take to ensure collection.
Any questions or queries, please contact the organisers:
Alternatives
info@alternatives.org.uk
+44 (0) 20 7287 6711
https://www.alternatives.org.uk/contact
---
---
Comments