Spiritual Growth & The Enneagram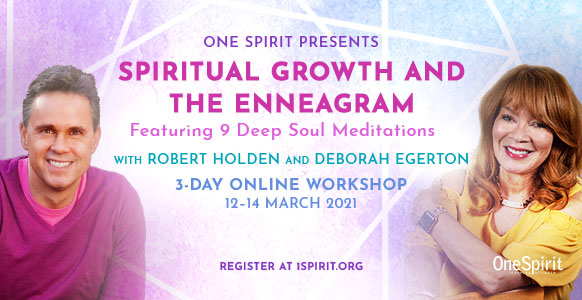 Mar 12, 2021 - Mar 14, 2021 Online
One Spirit presents Spiritual Growth and the Enneagram: Nine Deep Soul Meditations A 3-part Online Series with Robert Holden and Deborah Egerton Friday March 12th to Sunday March 14 2021 Timings: Fri: 7am-2pm PT (10am-5pm ET / 3pm-10pm UK) Sat & Sun: 7am-12.15pm PT (10am-3.15pm ET / 3pm-8.15pm UK) EARLY BIRD RATE $45 discount (full […]
Register Now
One Spirit presents
Spiritual Growth and the Enneagram: Nine Deep Soul Meditations
A 3-part Online Series
with Robert Holden and Deborah Egerton
Friday March 12th to Sunday March 14 2021
Timings:
Fri: 7am-2pm PT (10am-5pm ET / 3pm-10pm UK)
Sat & Sun: 7am-12.15pm PT (10am-3.15pm ET / 3pm-8.15pm UK)
EARLY BIRD RATE
$45 discount (full price $310, discounted to $265)
Join Robert Holden and Deborah Egerton on a deep 3-day dive into the timeless wisdom of the Enneagram to help you experience practical growth and transformation. In this workshop, Robert and Deborah will guide you on a meditative exploration through the nine soul journeys of the Enneagram and introduce you to the basic anatomy of its nine personality types. Drawing on teachings from the wisdom traditions, mysticism, poetry, works of literature, sacred art, and Hollywood, he brings the Enneagram alive for practical use in your everyday life.
Learn about:
The purpose of Enneagram: How to use the Enneagram to be less of a type and more of who you really are
Knowing your type: take a deep dive into the basic anatomy of the nine personality types
Your journey of growth: How to use the Enneagram to be more soul-centered and inspired in your life
Healing the inner blocks: Identify and release the basic fear, fixation, and passion of each type
Recognizing your soul gifts
The nine soul meditations: Become more fully present in your life
Watch this 'Presenters' Spotlight' interview to find out more:
https://www.youtube.com/watch?v=kQrZ0SaONQk&mc
NOTE: No previous experience of the Enneagram is necessary for this course. Upon registering, you will receive a link to the Enneagram Test, which you are encouraged to take to benefit fully from this workshop.
If you have questions about registering for this course, please contact One Spirit Learning Alliance by email to info@1spirit.org or call 212-931-6840.
About Deborah Egerton
Dr. Deborah Threadgill Egerton is President & Founder of Trinity Transition Consultants and The PlatinumConnection. She is a board member of the International Enneagram Association, an internationally respected psychotherapist, Executive coach and Enneagram practitioner. Her work empowers people with the necessary tools and skills to navigate the landscape of discovery of their unique Enneagram personality archetype.
---
---
Comments