Success Intelligence Mastermind FREE Discovery Call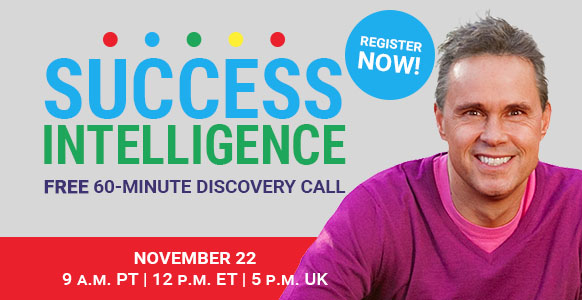 Nov 22, 2022 Online
Success Intelligence Mastermind Discovery Call Tue 22 Nov, 9-10am PT / 12-1pm ET / 5-6pm UK. Online, Zoom FREE Discovery Call Join Robert for a 60-MINUTE Discovery Call about his Success Intelligence Mastermind on 22nd November. The Success Intelligence Mastermind is a six month Mastermind Group featuring 3 × 1-to-1 mentoring sessions with Robert, and 10 live online classes.  It's a wonderful opportunity to […]
Register Now
Success Intelligence Mastermind Discovery Call
Tue 22 Nov, 9-10am PT / 12-1pm ET / 5-6pm UK.
Online, Zoom
FREE Discovery Call
Join Robert for a 60-MINUTE Discovery Call about his Success Intelligence Mastermind on 22nd November.
The Success Intelligence Mastermind is a six month Mastermind Group featuring 3 × 1-to-1 mentoring sessions with Robert, and 10 live online classes.  It's a wonderful opportunity to work closely with Robert for six months. Robert will be your host, your presenter, and mentor. This Mastermind is open to a maximum of 18 people.
This Discovery Call will be an opportunity to learn more about this 6-month program. And you will have a chance to ask questions about the journey.

"My aim is to use everything I've learned with Success Intelligence – over the last 20 years – to help you take a leap and enjoy a whole new level of authentic success." Robert Holden
We look forward to seeing you there!

All those who register will receive a copy of the recording! 
The Success Intelligence Mastermind program is open to a maximum of 18 people. Places are available on a first come, first served basis. APPLY FOR YOUR PLACE NOW!

---