Thanksgiving for Mystics: Recorded Interview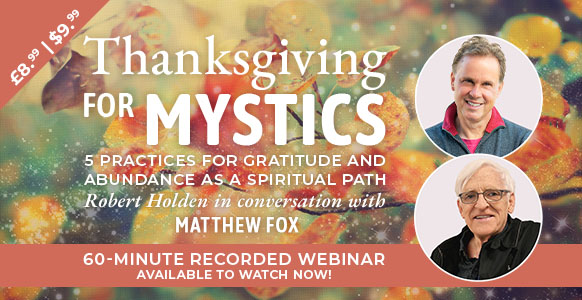 Nov 21, 2022 - Dec 31, 2022 Online
THANKSGIVING FOR MYSTICS 5 Practices for Gratitude and Abundance as a Spiritual Path ROBERT HOLDEN & MATTHEW FOX "If the only prayer you ever say in your entire life is thank you, it will be enough." Meister Eckhart Join Matthew Fox and I for a special Thanksgiving gathering in which we will explore the deeper, […]
Register Now
THANKSGIVING FOR MYSTICS
5 Practices for Gratitude and Abundance as a Spiritual Path
ROBERT HOLDEN & MATTHEW FOX
"If the only prayer you ever say in your entire
life is thank you, it will be enough."
Meister Eckhart
Join Matthew Fox and I for a special Thanksgiving gathering in which we will explore the deeper, mystical meaning of Thanksgiving. Together, we will share favourite practices and insights on how to make Thanksgiving a time to help us face life's many challenges, to lift our spirits, and to say YES to even greater abundance, guidance, and inspiration. Make yourself a cup of tea, bring a journal and pen, and let's celebrate Thanksgiving together.
Themes include:
The Gift of Mysticism: look at Thanksgiving through a mystical lens.
Gratitude as a Spiritual Path – deepen your appreciation for gratitude and the wondrous effects it can have on your life.
Gratitude as a Spiritual Practice – use gratitude as a spiritual practice to transform you experience of fear, lack, darkness and suffering.
The Miracle of Gratitude: learn how gratitude can help you be better receiver and more open to the gifts of God.
Finding the Present: cultivate a stronger relationship to the present moment so as to experience hidden blessings and everyday grace.
Matthew Fox is a spiritual theologian, an Episcopal priest, and spiritual activist who has written 37 books including Original Blessing, Order of the Sacred Earth, One River, Many Wells, and The Reinvention of Work. He is the Founder of the University of Creation Spirituality in California. And he has written books and taught courses on many of the great mystics including Meister Eckhart, Hildegard of Bingen, Thomas Aquinas and Thomas Merton. www.matthewfox.org

My work is in spirituality and psychology, I've been been featured on Oprah, Good Morning America, a PBS special called Shift Happens! and two major BBC documentaries. I teach seminars and spiritual retreats worldwide. I've presented two TED talks, and am the author of 12 books including Happiness NOW!, Shift Happens!, Authentic Success, Be Happy, Loveability, and Life Loves You (with Louise Hay). His latest book is Higher Purpose: Finding More Inspiration, Meaning and Purpose is available now. 
---
---
Comments