The Christ Mind – Online Workshop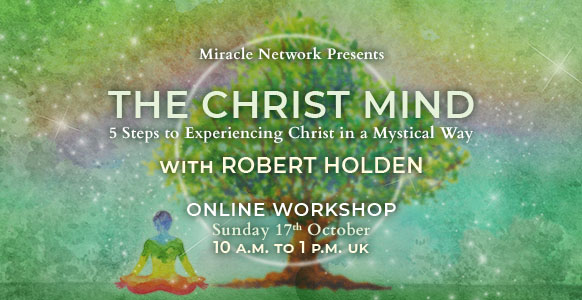 Oct 17, 2021 Online
THE CHRIST MIND: 5 STEPS TO EXPERIENCING THE CHRIST IN A MYSTICAL WAY Join me for an online workshop hosted by the Miracle Network on SUNDAY 17TH OCTOBER. Join me for readings, meditations, prayers and exercises from A Course in Miracles, the Gospel of John and other Christian mystical texts, to help you experience the […]
Register Now
THE CHRIST MIND: 5 STEPS TO EXPERIENCING THE CHRIST IN A MYSTICAL WAY
Join me for an online workshop hosted by the Miracle Network on SUNDAY 17TH OCTOBER.
Join me for readings, meditations, prayers and exercises from A Course in Miracles, the Gospel of John and other Christian mystical texts, to help you experience the Christ Mind in a clear and natural way.
I will be exploring: 1) The Christ Self: tuning in to the spark of Christ within; 2) Christ Guidance: being open to the spirit of universal inspiration; 3) Gifts of Christ: receiving the love of God; 4) Christ's Work: doing the work of Christ in the world; and 5) The Christ Prayer – one of my favourite prayers from the Course.
The event recording will also be made available.
Any questions, please contact the Miracle Network:
admin@miracles.org.uk
---
---
Comments