The Holy Journey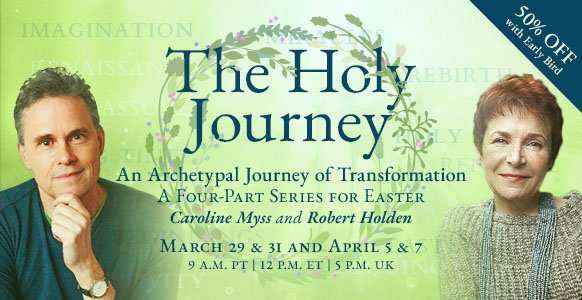 Mar 29, 2023 - Apr 7, 2023 Online
Overview of The Holy Journey Join Caroline and I for THE HOLY JOURNEY – a four-part series in which we take you on an archetypal journey of inner and outer transformation. We will focus especially on perennial themes for this time of year that include Spring Equinox, Lent, Ramadan, the Passover, and Easter time. THE […]
Register Now
Overview of The Holy Journey
Join Caroline and I for THE HOLY JOURNEY – a four-part series in which we take you on an archetypal journey of inner and outer transformation. We will focus especially on perennial themes for this time of year that include Spring Equinox, Lent, Ramadan, the Passover, and Easter time.
THE HOLY JOURNEY is a personal transformation that you are called to make to awaken a deeper understanding of your sacred contract and higher purpose. This journey is archetypal in that it follows a universal pattern, like in Greek drama, in which the "protagonist" (i.e. you) must undergo a holy transformation – a metanoia – that changes the way you see yourself, your psychology, and realise your capacity to empower your life.
In THE HOLY JOURNEY, Caroline and I will weave an inspiring mix of teachings and practices from world faiths, plus inspiration from Carl Jung's "Night-Sea Journey", Joseph Campbell's Hero Journey, the Easter Journey, the 4 stages of Sufi mysticism, and more.
The world as we know it has entered an era of transformation. We are experiencing a death of normal. All that is familiar to us is rapidly fading from view. This is our collective experience of Divine Chaos. The death of normal is happening because we are called to create a better way personally and collectively. We can each participate in this new era by committing to our own spiritual growth and evolution.
Everything you do matters to the whole of life, to everyone's life. It doesn't matter that we cannot see the impact of our lives upon the whole of life. All the great teachers have taught that, "What is in one is in the whole." We all breathe together. Even the slightest good that we do matters, now more than ever.
Enrol Now
---
---
Comments