The Song of Thankfulness – free Thanksgiving webinar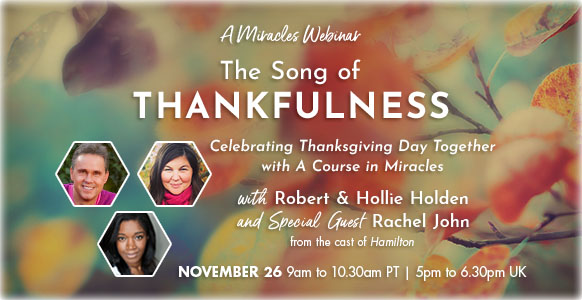 Nov 26, 2020 Online
THE SONG OF THANKFULNESS Celebrating Thanksgiving with A Course in Miracles ROBERT HOLDEN AND HOLLIE HOLDEN With special Guest Rachel John From the cast of Hamilton Each day a thousand treasures come to me with every passing moment. I am blessed with gifts throughout the day, in value far beyond all things of which I can conceive. — A […]
Register Now
THE SONG OF THANKFULNESS
Celebrating Thanksgiving with A Course in Miracles


ROBERT HOLDEN AND HOLLIE HOLDEN
With special Guest Rachel John
From the cast of Hamilton

Each day a thousand treasures come to me with every passing moment.
I am blessed with gifts throughout the day, in value
far beyond all things of which I can conceive.
— A Course in Miracles —
Join Robert and Hollie for an online Thanksgiving gathering. Set aside time this Thanksgiving Day to reflect on 2020 – a year full of challenges and opportunities, grief and healing, fear and love. Make yourself a cup of tea, bring a journal and a pen, and also your copy of A Course in Miracles if you have one. Robert & Hollie will share some of their favourite teachings, prayers and lessons from the Course and other spiritual traditions on the theme of gratitude, love and abundance. They are joined by special guest Rachel John, nominated for an Olivier Award for best supporting actress in her role as Angelica Schuyler in Hamilton.
Themes include:
The Scarcity Principle: learn how a gratitude practice can undo thoughts of loneliness, fear and lack.
3 Levels of Gratitude: deepen your appreciation for gratitude as a spiritual practice and a philosophy for life.
Laws of Deprivation: remove the inner blocks to the awareness of love's presence and the natural abundance of life.
The Song of Prayer: practice a new way to pray that helps you access more inspiration and grace.
The Holy Instant: cultivate a stronger relationship to the present moment so as to experience hidden blessings and everyday grace.
Miracle of Gratitude: learn how gratitude can help you be better receiver and more open to the gifts of God.

Robert and Hollie Holden are the hosts of Everyday Miracles – an annual membership program for students and teachers of A Course in Miracles. Robert is a Patron of the Miracle Network. He is the author of Holy Shift! 365 Meditations from A Course in Miracles. Hollie is the creator of the Presence of Love online study group. She and Robert have co-presented Miracles retreats and workshops in London and Findhorn. They are also the co-creators of the Everyday Miracles card deck – featuring 50 Lessons from A Course in Miracles – published by Hay house. www.everydaymiracles.love
---
---
Comments