Undoing Racism: 3-Part Webinar Series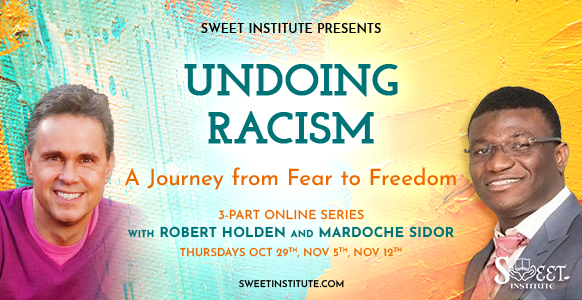 Oct 29, 2020 - Nov 12, 2020 Online
SWEET Institute presents UNDOING RACISM A Journey from Fear to Freedom A Heart to Heart Conversation with Robert Holden & Mardoche Sidor A 3-Part Webinar Series Thursdays at 12-2pm ET / 9-11am PT / 4-6pm UK on Oct 29, Nov 5th & Nov 12th How to play your part in a generation that stands for […]
Register Now
SWEET Institute presents
UNDOING RACISM
A Journey from Fear to Freedom
A Heart to Heart Conversation with
Robert Holden & Mardoche Sidor
A 3-Part Webinar Series
Thursdays at 12-2pm ET / 9-11am PT / 4-6pm UK
on Oct 29, Nov 5th & Nov 12th
How to play your part in a generation that stands for Ending Racism, Social Justice, and building the Beloved Community on Earth.
"Education is the most powerful weapon which you can use to change the world." – Nelson Mandela
Join Mardoche and Robert for a conversational journey in three parts that explores how we can undo the terrible effects of racism on our mental health, our social well-being, and our spiritual connection with each other. Together, Mardoche and Robert will offer practical ways in which neuroscience, psychology, sociology, and spirituality can help individuals and communities to heal racism, overcome prejudice, and end discrimination.
Please see website for further details on session topics
https://sweetinstitute.teachable.com/p/undoing_racism
About Mardoche Sidor
Mardoche Sidor, MD is a Harvard-trained Quadruple Board Certified Psychiatrist, Assistant Professor of Psychiatry at Columbia University, School of Physicians and Surgeons, trained in and taught all major psychotherapeutic modalities, including and not limiting to CBT, DBT, Family Systems, and Psychodynamic Psychotherapy. He is also the author of 3 books including Journey to Empowerment; Discovering Your Worth; and The Power of Faith. Dr. Sidor has worked both as a primary care physician and Medical director in three different settings, including a Chief Medical Officer of Center for Alternative Sentencing and Employment Services (CASES). He is a main facilitator for the SWEET Institute.
Early Bird Ticket Offer
$176.40 until October 15th
$296.40 thereafter
---