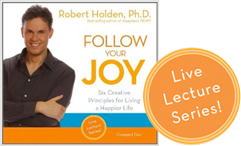 Receive Robert's FREE Newsletter
Sign Up for Robert's Newsletter and get instant access to the Follow Your Joy audio lecture for free!
Latest Post
Stevie Wonder's songs are not just songs; they are wisdom poems, meditations, and a call to action. His music and lyrics help me to face my fears – 
Superstition ain't the way.
 His song As describes unconditional love perfectly – 
Did you know that true love asks for nothing / Her acceptance is the way we pay.
 When I listen to a Stevie Wonder song, I am inspired to be more of the person I want to be. Stevie Wonder is my life coach!
Daily Quote From Robert
Look for the signs - notice what your life is currently trying to teach you about true success and true happiness.
- Robert Holden, Ph.D.