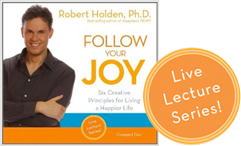 Receive Robert's FREE Newsletter
Sign Up for Robert's Newsletter and get instant access to the Follow Your Joy audio lecture for free!
Latest Post
My family and I are enjoying a Family Experience Week in beautiful Findhorn, an eco-village and spiritual community in Scotland. We've been working in the Original Garden, where Findhorn began, weeding flowerbeds, clearing pine cones, harvesting St. John's wort (for medicinal tea), picking blueberries and raspberries. The children painted a rainbow mural on the shed in the Flower Garden. We've built a campfire by the River Findhorn, swam in the river and the sea, cooked in the community kitchen, and star-gazed at the big black sky at night.
Daily Quote From Robert
Beware of permanent busyness! St. Francis de Sales says that half an hour's meditation each day is essential except when you are very busy. Then a full hour is needed.
- Robert Holden, Ph.D.