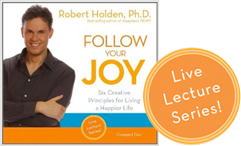 Receive Robert's FREE Newsletter
Sign Up for Robert's Newsletter and get instant access to the Follow Your Joy audio lecture for free!
Latest Post
"I believe the most important single thing, 
beyond discipline and creativity, 
is daring to dare"

Maya Angelou
I interviewed Maya Angelou three times. What an inspiration! Her courageous, heart-felt writing, speaking, acting and campaigning lit up the whole world. One of my treasured possessions is a signed copy of her memoir I Know Why The Caged Bird Sings. I quote her in almost all my talks and workshops. 

Maya's aim in her great life was to be a rainbow in somebody else's cloud. Below is a clip from a Maya Angelou Masterclass recorded for the Super Soul Sunday Oprah Show. It's less than 2 minutes long. Take a time-out. Press play. You'll be glad you did. 

Maya's great teaching was her example. Maya dared to express herself – and in so many ways as an activist, singer, director, producer, poet and memoirist. As I write my first book of poetry Finding Love Everywhere, I call upon Maya for courage and daring. Maya once said that the decision to write is as enticing as jumping into a frozen lake! Writing is a dare. Being creative is a dare. "I believe the most important single thing, beyond discipline and creativity, is daring to dare," said Maya. 

Maya spoke the truth. A universal truth. In an interview for Time magazine, she said, "I've still not written as well as I want to. I want to write so that the reader in Des Moines, Iowa, in Kowloon, China, in Cape Town, South Africa, can say, 'You know, that's the truth. I wasn't there, and I wasn't a six-foot black girl, but that's the truth'." 

Thank you, Maya, for being a rainbow in my life. I hope I can be a rainbow too for somebody else. I imagine that will be thanks enough for you. 

I wish you a beautiful day. 

Robert
---
Daily Quote From Robert
Some things never change: your greatest opportunity for healing and happiness has been, will be, still is, NOW!
- Robert Holden, Ph.D.