Love and the Enneagram 3-Part Online Program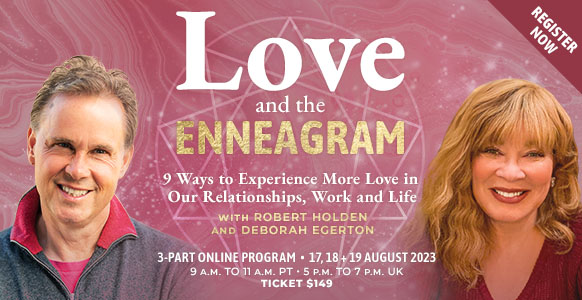 Aug 17, 2023 - Aug 19, 2023 Online
LOVE AND THE ENNEAGRAM 9 Ways to Experience More Love in our Relationships, Work, and Life With ROBERT HOLDEN and DEBORAH EGERTON 3-PART ONLINE PROGRAM 17, 18 &19 AUGUST 2023 9am PT to 11am PT | 5pm to 7pm UK TICKET PRICE: $149 ABOUT LOVE AND THE ENNEAGRAM In Love & the Enneagram, Robert and Deborah will […]
Register Now
LOVE AND THE ENNEAGRAM

9 Ways to Experience More Love in our
Relationships, Work, and Life
With ROBERT HOLDEN and DEBORAH EGERTON

3-PART ONLINE PROGRAM
17, 18 &19 AUGUST 2023
9am PT to 11am PT | 5pm to 7pm UK

TICKET PRICE: $149


ABOUT LOVE AND THE ENNEAGRAM
In Love & the Enneagram, Robert and Deborah will work with the wisdom of the Enneagram to help you experience a deeper understanding of the nine Ennea-types and their relationship to love.
CLASS 1: PATH OF LOVE – August 17, 9am PT to 11am PT | 5pm to 7pm UK
CLASS 2: HEART OF LOVE – August 18, 9am PT to 11am PT | 5pm to 7pm UK
CLASS 3: MIND OF LOVE – August 19, 9am PT to 11am PT | 5pm to 7pm UK

ALL SESSIONS will be recorded and you will receive the link to them as soon as they are available.

Some scholarships are available – please email us at info@robertholden.com
About Deborah Egerton
Dr. Deborah Egerton is an internationally respected psychotherapist, IEA Accredited Professional with Distinction, a certified Enneagram teacher, best selling author, and IDEA (inclusion, diversity, equity, and anti-racism) consultant, coach, and spiritual teacher. Dr. Egerton specializes in justice, equity, diversity, inclusion, and anti-racism work with individuals & organizations designed to create intentional culture change. She facilitates career growth and personal development with individuals and organizations by focusing her efforts on respecting the uniqueness of every individual & honoring their humanity.
Dr. Egerton teaches the Enneagram for introspective self-discovery and to cultivate a socially responsible community of cultural allies. Her work with the Enneagram has enabled her clients to get "unstuck" & move out of self-defeating negative behavioral patterns to establish workplaces & communities that work well for everyone. She holds a BA in Mass Communications from the University of Texas EL Paso, an MA in Counseling Psychology, from Webster University, and a Ph.D. in Health Sciences from Saba University, Netherlands Antilles. www.trinitytransition.com
---
---
Comments